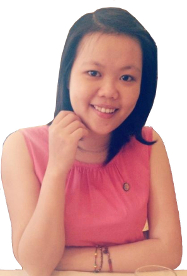 My name is Xuân Vi, I was born and raised in Da Nang Vietnam, then moved to Saigon and Quynhon to work for nearly ten years. I'm very passionate about teaching languages and I am excited about being afforded the opportunity to help anyone who wants to learn Vietnamese. It has been most fortunate to be able to experience the encouragement and enthusiasm of my adorable friends: Hân and Tú. Our team can't wait to work with you and to offer you the most delicate, engaging, enjoyable and comprehensive personalised Vietnamese tuition. In addition to tutoring Vietnamese, we have been developing our project making videos teaching Vietnamese for everyone to enjoy for free. We really hope you will support our team and join us for your first lessons!
---
Xuân Vi's profile:
---
I have degrees in both Business and Teaching from the University of Da Nang. One of the highest rating universities in Vietnam. I hold an office as an academic teaching Business at the University of Quy Nhon in the South of Vietnam. I was Australia Awards scholarship winner 2014-2015. I have a Masters from Australia in Business (Logistics & Supply Chain Management) I spend most of my time living in Australia teaching Vietnamese and English.
I have a high level of English fluency (When I'm in Vietnam I teach English). My deep understanding of the English language lets me share experiences and understanding with my students that are contextually and culturally relevant.
---
Experience:
---
Have learnt English from a young age, and in addition to receiving top marks throughout secondary college and university I was tutored in Vietnamese by my mother (A high-school Vietnamese Literature Teacher). As an adult I have ten years experience passionately tutoring English speakers in Vietnamese and Vietnamese students in English, I have the knowledge and understanding to offer a faster, more engaging, premium learning experience that is most importantly enjoyable.
I have an Australian family, so understand Australian culture, slang and colloquialisms. I understand the differences between the two languages and when you learn with me we will share that knowledge together.
And my mother is a Vietnamese literature teacher and my father a maths and science teacher. I am really enthusiastic about education it's what makes me and it's in my blood.
---
Qualifications:
---
Qualification in Teaching (Vietnam)
Bachelor of International Business, Da Nang University (Vietnam)
Graduate Diploma Bussiness Logistics & Supply Chain Management
Master of Supply Chain Management and Logistics, Australia
---
Suitable for Beginners, Intermediate and Advanced.
---
Native speaker
Vietnamese - spouses of Vietnamese citizens.
Vietnamese - tourism & travel.
Vietnamese for cultural experience.
Vietnamese for children of refugees to improve communication with older members of their families.
Vietnamese for business.
English for Vietnamese refugees - learn to speak like a native Australian.
English for Vietnamese spouses of Australian Citizens.
Subjects
Vietnamese Introduction
Vietnamese Intermediate
Vietnamese Advanced
Vietnamese crash course
Vietnamese for business.
Services
Private Tuition
Group Tuition
Skype Lessons
Home Visits
Phone Help
Online Help
---
Your personal Vietnamese tutors offering a tailored custom lessons are here!
Contact us to have a discussion about how we can improve your Vietnamese together.
---
The rate for one person for beginners below is for your reference:
- Skype lessons: $30 per hour
- Face-to-face lessons at my home: $35
- Face-to-face lessons in some selected places/public libraries/city area: $40
** There are three main levels of Vietnamese (12-20 lessons each). Beginner level includes 12 lessons which will take around 15-20 sessions equalling to 15-20 hours.
*** Plus $5 when you finish level one (Plus $5 if you are intermediate/advanced students)
*** We will have a test/discussion to find out your level on the first lesson.
*** $2 discount per lesson if you pay for 10 lessons in advance anytime.
*** You can transfer money into my Australian account.
---
E-mail: NguyenThanhXuanVi@gmail.com
Skype: vintx.dn
Phone: 0449 090 234